RV Drivers Training: Testimonials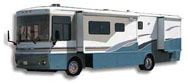 . . . I just wanted to send this note to thank you both so much for your expertise and patience in our recent RV Lesson . . . I am so much more confident in my ability to drive the rig and to maneuver it including backing, parking, hitching and unhitching it. Developing the communication system between driver and director was increadibly valuable.
. . . Thanks to your instruction I was able to back the trailer into a pretty narrow site that was lined with trees on each side using the dogleg strategy with only one corrections . . .
Thanks again for your very thorough andmuch appreciated instruction, advice and the little tips.
--Jeri and Carol
---
My friend and I completed your 2-day RV driving course. Shortly thereafter we took off on a 2500 mile road trip to Montana and back. The course was excellent and gave us both the confidence we needed to not only make the trip, but enjoy it! You were great instructors --knowledgeable, professional, helpful, and very supportive of two inexperienced RV people. . .
I appreciated the fact that the course not only covered the basics of a recreational vehicle, but also taught us to drive in real situations. . .
Thanks again for putting together an excellent two-day course for the novice RV handler/owner.
--Sue
---
I thought that I'd send you a short note of thanks. Krissy and I are sitting at a campground on the beach in Mendocino, after towing up our 28 ft Airstream (yes, we did end up trading the 23 in on a bigger unit) up Highway 128 on what unexpectedly ended up being rainy and foggy day. I can say that without a doubt, your lessons gave us comfort and confidence on the winding mountain and coastal roads in bad weather. We've been enjoying the camping, and it has been made easier (and therefore more enjoyable) because of the lessons that you taught us. Thank you, Ronn L.
---
We wanted you to know how worthwhile we feel our RV driving lessons with you were. We can't imagine driving our new motorhome without having had them. You were a very helpful and patient teacher. We just got back from the Delta and a trip to Reno. We split the driving both ways. It is so great to give Michael some relief at the wheel and have him enjoy some scenery for a change. Thank you, Berrie & Michael
---
Forgive me for taking so long to write to tell you about how successful your training was, for the woman with no depth perception on my right side (residual effects of a stroke). After taking your training, I was able to drive my RV from Plymouth to Healdsburg the following day, without incident -- other than the annoying continuous beeping from the automatic levelers. This trip included winding my way up a mile-long driveway with plenty of overhanging trees -- no mishaps. In mid-January, with my 19-year-old non-driving niece for company, I drove to Phoenix, Arizona, to attend my nephew's wedding. It was 805 miles each way; I took two days to drive each direction. I drove over the Tehachapi Pass on the way out, and I drove over the Grapevine on the way back. I felt confident even though the wind was fierce in places, in both directions. I also backed up my rig to park it, and I slid it through some pretty narrow places in the Phoenix RV park. I also emptied and washed tanks, checked the oil, checked the water in the on-board batteries, and maneuvered the rig to fill up with propane as well as fueling with gasoline. Ron, your training gave me the confidence to take my rig out anywhere. Thank you again. God bless you, Mary S.