RV Drivers Training: Location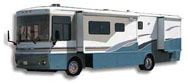 Gold Country RV Driving School is located in Amador County, Northern California in the city of Jackson. This is approximately 40 miles Southeast of Sacramento.
This is our location, however for RV Training lessons we will come to your location (if within a 50 mile radius of Sacramento).For lessons outside the 50 mile radius of Sacramento you have an option of either you coming to our location or for an additional expense cost we can come to you for your lesson.